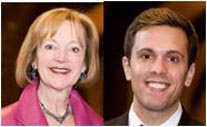 IA-Forum:
What is your philosophy for developing a career in international affairs?
Sherry Lee Mueller:
The philosophy we present is one of not just finding a job but of making a series of decisions that lead to a coherent career, and that really applies to anyone. We put special emphasis on our own field of international education and development.
In the first chapter of the book, we look at 'what is your cause'. Your career is how you spend the bulk of your waking hours. The decisions you make that lead to the various responsibilities you assume in a series of jobs are important. What we hope the book will do is provide a shortcut to good information and resources that will help make that decision-making process easier and perhaps more guided.
Mark Overmann:
The question of 'What is your cause' hasn't been as easy for me to get at as it might have been for Sherry. She has been working in these fields for a long time and has found a career that matches closely with her cause, whereas I'm still not quite sure where my career path will wind and what my cause might be. That's a common thing for young people, I think, and it's natural to be unsure. But it's also important to ensure that the choices you're making are building blocks toward something. You don't have to know exactly what that something is, but if you know this step in your career is pushing you in a good direction, it's a positive.
IA-Forum:
The book provides profiles of people working in international affairs that provide additional depth to the content. What types of people did you include?
Ms. Mueller:
We included experienced practitioners like Ambassador Kenton Keith of the Meridian International Center and Charlie MacCormack of Save the Children. We also included profiles of young people who have already achieved a lot but still have the bulk of their careers in front of them. For example, we picked a former student of mine, Luby Ismail, who founded her own cross-cultural communications company because she wanted to stay home with her children.
Mr. Overmann:
We also profiled a med school student, Arjun Desai, who was leading other med school students abroad to study and serve. While he was an outlier to the international affairs field, he was still internationally engaged in a meaningful way.
Ms. Mueller:
What's unique about these profiles is that we didn't ask them for just for a thumbnail sketch of their careers; instead, we asked them to reflect deeply on their careers and answer the same questions we were tackling in the first part of the book.
IA-Forum:
One of the chapters discusses the role of mentors. How should someone find the right one(s) out?
Mr. Overmann:
I'd long thought that I didn't even have a mentor, and I questioned whether it was a generational thing, that maybe for the on-line, technologically savvy generation, the concept of mentors is no longer relevant. But the conclusion I came to is that the younger generation may look at the concept of mentors differently, but it's still there.
I've come to see that I have many people in my life who are mentors even though I've not necessarily called them that or didn't ask them to be a mentor. Young people should look to those people already in their lives, from parents to professors – people you may have never thought about in that way but who do in fact provide a mentor-mentee relationship. These are people who can have great influence on your career.
Ms. Mueller:
I've had mentors over the years and they've been role models for me. I found myself trying to emulate their behavior. My definition of a mentor is someone you admire whose values you respond to, who cares about your professional growth, and who can teach you things that are important. You're naturally drawn to some people more than others. A mentor is someone you can learn a lot from, and the protégé can wind up contributing a lot to the mentor as well. I think mentors are really important in our lives and despite the fact that technology is a leveler to some extent, there are some things that only long-term experience can provide.
Mr. Overmann:
Someone may say to a young person, 'Do you have a mentor? Get a mentor.' It seems very forced and looking at it like that doesn't work well, in my opinion. Rather, it should be a natural thing with someone you're drawn to, someone you're truly interested in and get along with. You can't expect that this kind of relationship is going to just happen, though. If you see a relationship developing, you should take the initiative to nurture it and stay in touch with that person.
IA-Forum:
Networking is another important career builder you discuss. What is your advice for someone who's new to it and seeking ways to do it?
Ms. Mueller:
One avenue for networking is becoming a member of a professional association that deals with the issues that you're most interested in at this moment in your burgeoning career. For example, if you're interested in development, become a member of the Society for International Development. Start going to their events and get to know the leaders of that organization. That's a logical, methodical way to do networking. But it's also networking when you're sitting next to someone on an airplane and you notice a book they're reading on a topic you're interested in and you start a conversation.
Mr. Overmann:
While I'm comfortable speaking to groups and think of myself as outgoing, I don't feel comfortable at networking events. The term 'networking' has a lot of connotations to a lot of people, many of which are negative and make it sound a lot like work. But if you look at networking simply as natural human interaction, it would probably seem like less of a chore.
To do better at events, good advice that's been given to me is to go with someone else. Being with someone you know, so you're not standing alone, can be a great help.
Ms. Mueller:
One way to think of networking is as learning and as asking a series of questions. Part of the problem is we tend to think we have to have something interesting to say, but if you ask someone else a question, you'll learn more and it can lead to interesting comments on your own part.
At networking events where there is a speaker, I always suggest to people to have that first question ready. After a speaker finishes, once the second question has been answered, there are lots of hands, but the first question tends to be harder. Asking that question allows people to know that you're articulate, that you listen to what had gone before, and that you're intellectually capable of asking a reasoned, good question.
Mr. Overmann:
Being at an event as more of an engaged, interested practitioner in the field rather than a sad job seeker makes a big difference. There are people at events that make a big deal of the fact that they can't find a job. This can make others uncomfortable. However, just saying you're there to make connections, not necessarily asking for a job, works better. Of course, the best end result would be that someone, somehow, will get you a job – at least, an interview. How you approach that makes a big difference, though, as it puts the person you're talking to more at ease. An intelligent conversation about a topic of interest works better than talking about getting a job.
Ms. Mueller:
In the book we also discuss the notion that 'you're always on', that you never know when you're making an impression on someone. We think there was a moment in time that was the 'crossroads' in our lives. But in many cases there are moments before that lead to that 'crossroad', that form the decision or outcome. The point is you never know when you're at one of those crossroads and they're not always at the predictable moment in time. As a job seeker you are always 'on' because you just don't know when you're in one of those situations where someone's taking your measure and that could turn into a job a few months later.
IA-Forum:
There are also fundamental things you discuss such as having business cards on you and communicating back with interviewers.
Ms. Mueller:
If someone comes to one of our career roundtables or has an informational interview, I always wait to see who writes a thank you letter, how much they listened, and if they can reflect back to me what they learned in the interview. I've occasionally made a decision to give someone a second interview based on that.
Mr. Overmann:
Writing a thank you letter – certainly after a job interview – makes all the difference. A thank you letter can be a written card or an email… it depends. Written cards are great, I think, but if it's a fast moving process and you want to contact someone very quickly, an email is fine. Of course it has to be a well composed, professional email—it shouldn't sound like you're texting or chatting. That might seem obvious but sometimes it's not. Also, when you're sending out an email, re-read it before sending it.
IA-Forum:
What about dress?
Ms. Mueller:
In so many of the jobs I've hired for over the years, we work with people from cultures all over the world on a daily basis. Yet people have come in for job interviews looking like they were going to the beach. I automatically put that resume to the side. It's harder, as our culture gets more and more casual, to know where that right line is about what is professional dress. I still appreciate someone who is dressed conservatively, in a suit. It's not so much that you criticize the way they look, it's that you wonder about their judgment. If they deem that wearing flip-flops is OK in this situation, in what other ways will they use poor judgment?
IA-Forum:
What advice do you have for people who are interested in gaining employment in international affairs but live away from Washington D.C. or major international cities?
Ms. Mueller:
We go back to professional associations or organizations you can be part of. Suppose you know you're going to be a lawyer and live in Denver your whole life but you have a strong international interest. You can find the local Council for International Visitors, World Affairs Council, and International Education Council regional offices that have a series of exciting events and volunteer opportunities. Identify local organizations that are engaged in activities that may take up an evening or week of your time, or where you can play a leadership role on the board of an organization. There are all kinds of ways to grow internationally even if you're in a particular profession that requires you to stay in a small town.
Mr. Overmann:
I'd offer the same suggestions for someone who wants to come to D.C. to work. They probably want to lay some groundwork ahead of time. Use any connections you have who may in turn have connections in DC and ask them about who they should talk to. Any kind of connection you have could be useful.
A great thing for people to do is to use the electronic tools at their disposal. Face-to-face interaction is great, but how do you find those people in order to get a meeting? There are tools you can try such as alumni networks to find them.
We have such high-tech communication today, and young people are supposed to be excellent communicators because of this. But in the course of doing research for this book I talked to many undergrads who were desperate for advice on how to reach out to potential employers. It's not as intuitive as you may think. Is it okay to approach someone you don't know or someone you have a tangential relationship with? I think it is okay as long as you do it respectfully and you're not asking too much of them. Give them a way out if they can't do it. What do you have to lose? As long as you're presenting yourself in the most professional way possible, you only stand to gain a potentially fruitful connection. The worst thing that can happen is the person will say he doesn't have the time—but you'll find many people want to help because someone's helped them at some point in their career. You'll find people that they will be more than happy to talk with you, at least over the phone or in an email exchange, and perhaps pass your resume onto a friend.
Another point is to not always go after people at the top of the organization, who are much more pressed for time than others. Get in touch with lower level professionals. Making contact,and gaining advice on careers from them is important. You never know where those types of interactions are going to lead.
Ms. Mueller:
People often make the mistake of thinking it's only someone like the president or director that matters, but often I'll go out and ask the receptionist, how did that job applicant treat you? For me, I'm building a team and it's very important that the people who work here have a lot of mutual respect. It could be that the receptionist decides whether you get to talk to me or not. You need to make relationships with all the folks along the way.
IA-Forum:
Many people who have degrees and a strong interest in international affairs have had to find jobs outside of their field. What advice do you have for people to keep their sights on track and stay sharp in the process?
Ms. Mueller:
There are many events that you can attend outside of work hours. Events where you can network are critical and you should keep going to them.
You can go to career roundtables and find people with whom you can have an informational interview. In going to career roundtables you want to get with a couple other people who share your interests, who are also looking for a job, and who may also be working outside the field currently. If you develop that group and meet every week to discuss opportunities, then you have several people looking for a job for you, not just yourself. You also help other people.
Looking for a job is a lonely experience when you're not anchored in a professional environment already. The notion of having a support group of other job seekers is gaining currency and will continue to be used more and more.
It's also important to keep reading in your field.
Mr. Overmann:
A great aspect of the increasing popularity of blogs is that they provide a more interactive way to digest what's going on than traditional media. This kind of engagement can help keep you analytical and sharp. Staying well-read and sharp will assist you when it's time to talk to someone about a job or the field in general.
IA-Forum:
Is getting published an important step in finding work in international affairs?
Ms. Mueller:
I value good writing skills. To see something published or that someone was an editor of a graduate school journal, that carries weight with me. I'll pay more attention to that resume than a similar one without writing/editing experience.
Mr. Overmann:
You don't necessarily have to be published to demonstrate you have good writing and analytical skills. I think it's more important to establish that you're a good writer and a critical thinker, someone who can adapt to situations, someone who can learn…
Ms. Mueller:
If I'm talking to a young audience in college, I will suggest they plan some of their papers so they have the opportunity to interview some of the people who are working in the organizations they think they're interested in. I might not have time for an informational interview, but if you approach me and say, 'I'd like to talk about your leadership style because I'm writing a paper for my graduate class', that's pretty irresistable. I encourage students to use their papers to do original research that gets them in the doors of organizations where they may want to work. Or, instead, they may learn they don't want to work there.
Mr. Overmann:
While I say it's not essential that you've been published (and say this maybe because I wasn't published before this book), I do wish someone had encouraged me to do that kind of thing, to write a paper and try to present it at an international conference.
Ms. Mueller:
You have to think about those things on your resume that will set it on a higher shelf than others. Publications fall into that category.
Dr. Sherry Mueller is President of the National Council for International Visitors. Prior to that, she was Director of the Professional Exchange Programs staff at the Institute of International Education. She has served as an Adjunct Professor at the School of International Service, American University, where she taught courses on U.S. Public Diplomacy. Prior to joining IIE, Dr. Mueller served as an Experiment Leader to the former Soviet Union, an English Language Officer for the U.S. Department of State, a Lecturer at the University of Rhode Island, and a consultant to a variety of organizations, including the U.S. Department of State, Tufts University and the National 4-H Foundation.
Mark Overmann serves as the Assistant Director and Senior Policy Specialist at the Alliance for International Educational and Cultural Exchange, Prior to joining the Alliance, Mark was as the Director of College Communications at Georgetown University, where he worked closely with the university's outreach and exchange programs to China. He also worked as a program associate for communications at the National Council for International Visitors. Mark made his first trip abroad during college to study in Angers, France. Following his graduation with a degree in English from the University of Notre Dame, Mark taught English and studied Chinese in Northeast China's Yanbian Korean Autonomous Region. He subsequently earned his master's degree in International Communication from American University's School of International Service. He is coauthor with Sherry Mueller of Working World: Careers in International Education, Exchange, and Development (Georgetown University Press, 2008) and the international career blog at http://workingworldcareers.com

Working World
is available at
Georgetown University Press
. Also, visit the
Working World Careers
blog.
Comments in Chronological order (0 total comments)