This is the era where people are after their own personal invested interests. The 21st century's modern civilization that has a primary goal to save human rights is trembling at its fulfilment. This ideology seems to be withering away in this practical world. All political mantras, which were earlier developed to guarantee a peaceful world, has boiled down to gaining power. The states behave like typical gangsters, who toil their moustaches and puff on a cigarette while planning to kill an innocent child, and who consumes drugs to sleep in peace as if nothing happened. That's exactly what I observed while millions of humans in Kashmir are crying out for help. This international political ideology of strategic alliance and bilateral relationships has brutally murdered the courage to pronounce the truth and reveal the aggressed and the aggressor. It is sickening, and the world must tell India in one voice to stop its aggression on the innocent lives.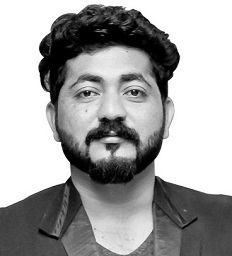 Similar to the past events of Palestine, Syria, and Afghanistan, Kashmir is bleeding today. It is not a new phenomenon; and I, who believes in democracy which is a true system for people to rule, am forced to say that this very basic right of people has been snatched by the extremist and fascist government of India after it revoked Article 370 of Indian Constitution that guaranteed Jammu and Kashmir (J&K) to be a self-governing state in India. The United Nations Security Council Resolution 39, adopted on January 20, 2019, pronounce it as a disputed territory between India and Pakistan. Furthermore, a similar agreement was made between Pakistan and India in the "Simla Agreement."
Let's look at some historical facts. Article 370 is the representation of the conditions of Indian held J&K, where the state joined India during the partition of India and Pakistan in 1947. Half of Kashmir is in Pakistan, and the other half is in India. These halves are self-governing, but recently India sabotaged the rights of the people of J&K by revoking Article 370.
This move is not welcomed by some people in India as well. For instance, the Indian National Congress Party has not accepted this resolution and calls it an undemocratic precedent. According to Shashi Tharoor, a member of Indian Parliament (Lok Sabha), said that this action was taken without any consultation from the people of J&K, which violates democratic principles. Furthermore, Mehbooba Mufti, the former Chief Minister of J&K, called it a "dark day for democracy." She further iterated, "Kashmiris are forced to think that their decision to align with India was wrong; perhaps, people now consider that their ancestors would have aligned with Pakistan." While all the political leadership of the J&K are on house-arrest, there is an imposed curfew with complete media blackout; no Internet connection and communication mediums totally cut out.
In this process, many people in J&K who resisted were tortured and brutally beaten to death. Loss of lives in J&K is not new. The freedom fighters have been sacrificing their lives to fulfil their dream of attaining freedom. According to the New York Times, Iltija Javed, the daughter of a Kashmiri politician, said, "The way we are being treated is absolutely appalling. We don't even know if everyone has enough food supplies, enough medicinal supplies to last them for this indefinite curfew." And, in such a ruckus situation, the President of the United States, Donald Trump, considers it the internal matter of India.
On the other hand, Islamabad has sent a strong message to India by cutting all bilateral diplomatic and trade ties. Some have gone ever farther. For instance, Fawad Chaudhry, the minister of Science and Information Technology in Pakistan, broke into tears while he narrated the story of a 23-yearold boy killed by mortar fire from India. He also warned India that Pakistan is ready for a war over dishonour as Pakistanis consider Kashmiris their kith and kin. The outrage is overwhelming in Pakistan, and the Prime Minister of Pakistan, Imran Khan, announced that the country will go to the extremes in defending the rights of Kashmiris that are repressed by the opportunist, fascist, and extremist government of Indian PM Modi.
It is high time that the world come together and pressure India to not rob the people of J&K of their rights and freedom. The United Nations must act against the Indian act of violation of the Security Council's resolution on J&K. The divided world on strategic and interest-based alliance must unite with a conscious effort to stop suppression in any part of the world; otherwise, I am afraid of the consequences. It is worth noting that once suppression tolerated, it never stops. Who knows that today it happened in Kashmir, and tomorrow, it might occur somewhere in those countries who are silent and peaceful today? I urge all those who believes in peace and humanity to stand in solidarity with Kashmiris. Indeed, as Mehbooba Mufti said, it is a dark day for democracy.
Hashim Raza is an independent researcher and blogger on social issues, social policy, international relations, and politics. He can be reached @HRSiyal.
Comments in Chronological order (0 total comments)